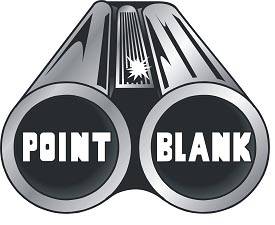 Twin barrels of a shotgun stared me right in the face. Behind it was the solid white background of what was the first self-titled national release of another ''Little Ole' Band From Texas" called POINT BLANK.
The head of publicity for Arista Records had sent this album to me for review. From the time I heard song one, on side one, "Free Man"
I knew this act would soon become a force to be reckoned with in the field of Southern Rock.
Arista, which was formerly known in the industry as Bell Records, had recruited former Columbia Records chief, Clive Davis, to run the brand new label.
He quickly proceeded to sign the company's very first Rock act to the label, a Tampa, Florida group called THE OUTLAWS but it was the pure consistency of the southern fried, hard drivin' sound of these proud Texans that kept my attention focused on another Arista Records signing…those POINT BLANK Boys.
The band's first introductory LP would, from the moment it was released in 1976, proudly take its place in the annals of Southern Rock recordings and indelibly define what was to come from The POINT BLANK Boys for the next thirty plus years.
Formed on July 19, 1974, this stage-rumbling, Dixie-Fried, collective of Dallas/Ft. Worth musical brothers, defied the customary restrictions commonly placed on professional, national touring acts, by being able to make a living playing major arena venues, for two years, without so much as a single record or record album for sale. How did they do it? It was solely based upon their ability to consistently deliver top-flight performances in any live concert situation. Lead singer, John O'Daniel, told me:
''We were touring with ZZ TOP, LYNYRD SKYNYRD, CHARLIE DANIELS, MARSHALL TUCKER...the whole Southern Rock thing...and it was two-years before the first album came out.''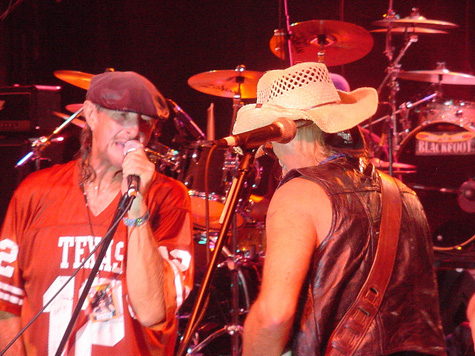 Following their self-titled debut, the band's "Second Season" album gave rise to the story of a good man, with a pea coat on his back, named "Uncle Ned" and, if there was ever an open question concerning the validity of the full-tilt Southern Boogie created by POINT BLANK, then one listen to this tune on the band's second Arista
release quickly ended any such speculation once and for all.
"Uncle Ned" raced out of the Texas dirt track gate and forced the listener to give this Southern Rock band their just due.
Not only did the Southern Rocking, hard-driving, record-buying, public finally take notice…but so did the concert promoters and live bookers worldwide.
POINT BLANK would become one of the most booked, and therefore, one of Southern Rock's all time most consistent touring acts ever.
It was not unusual for the band to play in excess of two-hundred concert dates in a fifty-two week year.
They played with virtually every known act in the entire genre--becoming close friends with darn near all of them.
This would include fellow Texans Billy Gibbons, Dusty Hill, and Frank Beard, better known in the industry as ZZ TOP, with whom the band shared the same management and still remain friends with today.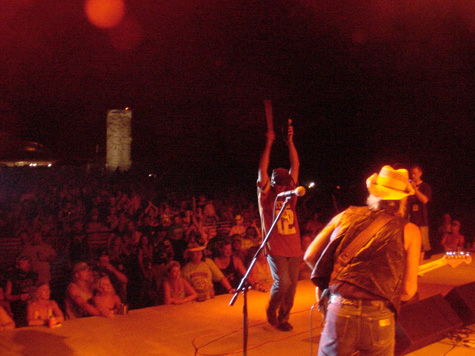 While the Arista years defined the group, their switch to Skynyrd's record label, MCA, gave them their fifteen-minutes of fame on the Billboard charts with a #20 hit single, "Nicole", from their "American Exce$$" MCA record album.
It was during this period in my professional life, while on the air working at an AOR Rock radio station, in Ohio, that I did everything I could do to promote these Texans both on the air and off.
Finally, after four albums, and hundreds of arena concerts under their belt, the American public was definitely listening! Obviously, a lot of this had to do with the band's relentless touring schedule, but I would be remiss if I didn't mention the fact that this band simply knew how to write, knew how to rock, and knew how to roll their way into the hearts of their Dixie-Fried fans in the Southern Rock arena.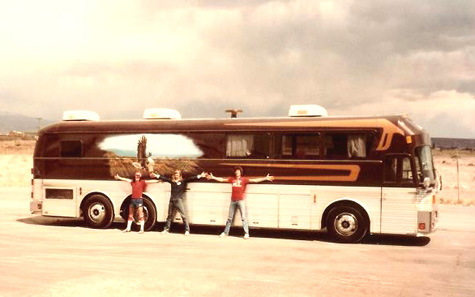 Both Arista albums and all four MCA albums were chalked full of self-composed songs which were consistent rockers in the field of Southern Boogie Woogie, for which the band became known.
It was not often the group chose to cover the material of others.
Most notably, among these exceptions, was the Ian Gillan (Deep Purple) 1971 penned "Highway Star" which appears on POINT BLANK'S MCA album "The Hard Way" and clearly has the POINT BLANK signature sound written all over it--despite being a cover song.
Finally, after six albums and literally hundreds of shows in major concert arenas, playing before thousands each night, POINT BLANK decided to call it a night in 1983.
Most of the band members either continued playing locally in Dallas/Ft. Worth and/or started their own successful businesses.
Founding member, Buzzy Gruen, remembers this period in the group's history well. Drummer Gruen was one of only two POINT BLANK members who had remained 100% loyal to the organization from the first, to the very last, album recorded and from the first, to the very last, show played. Besides him, it was only guitarist, Rusty Burns, who remained steadfast and undaunted, as a full-time employee, of the POINT BLANK organization.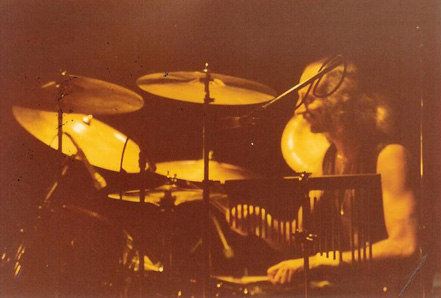 ''Well, think about it. At the time,'' Buzzy Gruen told me, ''Southern Rock was happening and I think, first of all, the first big slam to Southern Rock was the death of Skynyrd. That was a shock. That was a culture shock. And then, after that, Rock and Roll, in general, and the music we enjoyed listening to on the radio changed. Disco came in. The Bee Gees had a big part in changing that. When we came back home, after ten years on the road, the clubs weren't even hiring live bands anymore. I'd go into a club and they'd be playing Disco and they'd have a drummer on a set with a pair of headphones playing along with the damn record! 'What is this?...What the hell is this?' Then after Disco, Country really came on strong, on the scene, and people started moving, including a lot of the players, to Country music. Musicians would say: 'I can't make any money playing Rock and Roll anymore so I'm going to join this band playing Country because that's where the crowd is. That's where the money is. That's where the gigs are.' So, there was a big shift. They kept Southern Rock alive in Europe but it changed here in the United States. It changed big time. Things had shifted. Today, Southern Rock has made a bit of a comeback. The older people, who were there back then, have brought it back, not the kids. There are some young people that go: 'Man, I never knew these guys existed.' Well, you weren't born yet! What happened to Southern Rock is...Do you want to call it 'progress?' Time moves on. The scene changes. That's what happened to Southern Rock. Thank God for you guys...that are working to keep this music alive! It's music, and music is a gift that we, as musicians, are given by God...that special gift of music...and we give it to everybody else, in caring hands, as a gift. Here's my soul, take care of it. I hope you like it!''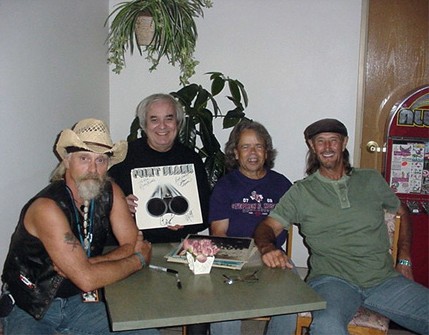 It was not until years later, in 2005, that the POINT BLANK band reunited, for philanthropic purposes, to perform at the historic Ridglea Theater in Fort Worth, Texas.
This concert was a benefit for a former long-term POINT BLANK Roadie, Preston Green, who lacked the necessary medical insurance to cover some very expensive, but much needed, medical procedures.
The event was recorded live and unknowingly became the revitalization of the actual POINT BLANK band itself. Rumours of the POINT BLANK reunion spread faster than big wild horses on the Texas plains and even reached the group's many loyal fans in Europe. The email box of bassist Philip Petty began filling up with offers of both a European tour, as well as a record deal, for these well known bastions of Southern Boogie. The new & very live reunion album, entitled "Reloaded" was subsequently released on Dixiefrog Records and did indeed give rise to a European tour which culminated in POINT BLANK playing the Rock Palace in Germany, as well as making an appearance at the Sweden Rock Festival too.
Guitarist Rusty Burns would later tell me, in an interview, that:
"One of our first Roadies, Preston Green, was very much in need of a liver transplant—liver and kidneys.
He needed X amount of money and, since none of us had a hot check to write for that, we decided we'd get together and do a show, as a benefit, from which we raised enough money.
He is now the proud recipient of a liver and two kidneys and, the next thing we knew, we had a record deal and, it's like: 'What happened, guys?'
I'm looking at them and saying:
'This is weird.
Why are we here doing this?' It (the band reunion) all started because of that."
Lead vocalist, John O'Daniel, went on to say:
"It's not often you get the chance to do something you love…twice…and we're not going to let it go by.
We're having too much fun with it!"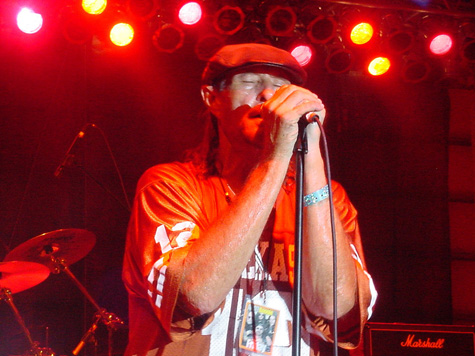 The "Reloaded" album was then followed up by the group's first studio album, in 27 years, called "Fight On!" also on Dixiefrog Records.
True to form, for this rockin' band, POINT BLANK came out of their corner swinging.
I expected no less!
This eleven song album levies a punch that shows anyone who dares to listen that these boys from Texas are taking their place onstage, with Greg Allman & company, the Van Zant brothers, ZZ Top, and a few others who are dedicated to making sure this thing called Southern Rock remains alive and well.
If you open up the tri-fold album cover, you will see my photograph of original POINT BLANK members Rusty Burns, John O'Daniel, and Philip Petty.
I took the cover photo when I met up with the band onstage, while they were appearing with BLACKFOOT, at an outdoor concert in Indiana.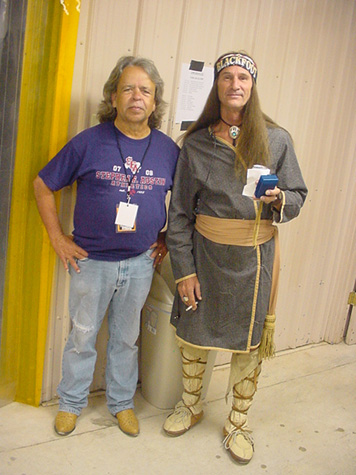 About a week later, my phone rang and it was original POINT BLANK bass player, Philip Petty, who called to ask if my time with the band, as the official concert photographer that night, was a memorable one.
I remember telling him there was only one problem with it—that I couldn't be there with them on tour every night!
Little did I know that would be the last time Philip and I would talk.
A while after our phone conversation, I learned Philip, who his fellow bandmates used to refer to as the ''Little Big Man'' had, sadly, lost his battle with a cancer he didn't even know he had. I guess that doesn't make for much of a battle then, does it? Philip had recently enrolled his last child in college and now his work on earth was done. He joined former POINT BLANK member, William ''Wild Bill'' Randolph, in being called home.
A founding member of the band, as well as bassist during those crucial and early Arista years, Philip Petty would later leave the group, during the MCA years, to raise his four children and then return for the reunion of the band in 2005.
During his absence, he was replaced by "Wild Bill" Randolph who had already been called home, after suffering a heart attack, in 2001.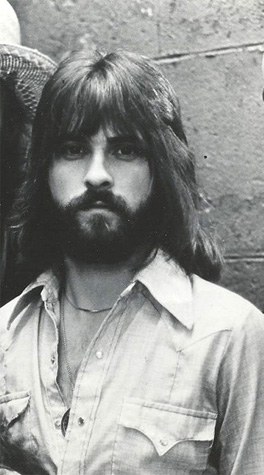 Exactly four months and eleven days later, still mourning the loss of group co-founder, Philip Petty, word struck down, like chain lightning, that another founding member of POINT BLANK, the immensely talented, twin-lead guitarist, Kim Davis, was dead at age 58. Kim was there, not only at the beginning of POINT BLANK, but even before the beginning. Prior to the group becoming POINT BLANK all of its original members had played together, under a couple of other group names, and Kim was there--even back then. Many people, including me, were stunned to discover that Kim Davis was not a part of the historic reunion at the Ridglea Theater. Rumours began to fly as to why Kim Davis was not included. The actual truth of the matter, concerning the absence of Davis, is that Kim was not even in town the night of the reunion. He had secured a job, as a Regional Sales Representative, for the musical instrument and guitar company, Peavey, and his job required him to spend a lot of time on the road representing the company. His immense knowledge of guitars, amplification, and all things musical, made him a natural for his position at Peavey and, while he was an asset to the Peavey corporation, it was the legacy he left behind, as a guitarist, that will never die in the hearts of POINT BLANK fans. Just like in any good marriage, where the sum total is greater than each of the individual parts, there seemed to be a sort of mystical symmetry that was felt by anyone listening to the Rusty Burns/Kim Davis collaboration that defined the very essence of what those POINT BLANK Boys were all about. On Superbowl Sunday, February 5, 2012, lead vocalist, John O'Daniel, would give me his take on exactly what he felt was behind the POINT BLANK signature combination:
''Kim was more of a Blues-oriented type player and Rusty is a little more of the, I guess you'd call it, from the Hendrix school or the Rock and Roll school of music. It was the combination of the two that made us what we were. Kim Davis was an extremely talented individual and very unique. He played a lot of (guitar) licks that were just totally unique to him. He was a very innovative type person. As an individual, Kim could be one of the funniest persons you've ever seen or he could be one of the most deep, profound-type guys. With Kim, there were several personalities. No doubt about it. He was a very unique individual. I absolutely enjoyed working with him.''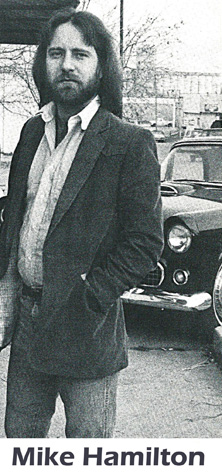 POINT BLANK fans would recognize a significant addition to the musical lineup of the band after the first two albums recorded in the Arista years. Both the self-titled first album, as well as the ''Second Season'' album were ''The Keyboard-less Years'' of POINT BLANK. This would change beginning with the MCA ''Airplay'' album and the remaining three albums, recorded during the MCA years, when keyboards were added to the instrumental lineup of the group. The first keyboard player for the band was Steve Hardin. He was replaced by Karl Berkebile and finally, in 1981, Dallas studio musician, Michael Hamilton, would be added on keyboards, starting with the ''American Exce$$'' album, and continuing until the group disbanded in 1983. On Monday, May 13, 2011, Michael Hamilton also succombed to cancer and would become the fourth former POINT BLANK member to leave his legacy behind in both recorded works, as well as live performances, during his tenure with the group.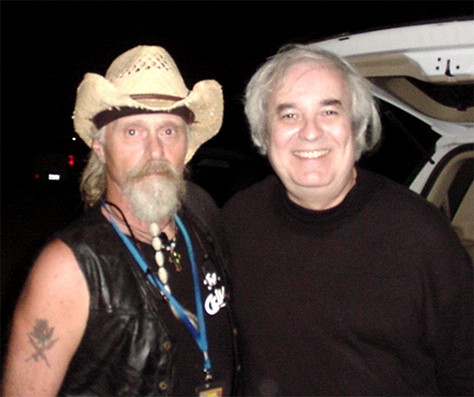 Today, in 2012, the band is in the studio producing what will become their ninth album. I asked Rusty Burns what's different, from his perspective, in the field of Southern Rock today -vs- yesterday, when there were so many working Southern Rock bands.
He told me: "What we're doing right now is...we're basically salvaging up what's left of it because no one's really carried it forward.
Southern Rock had become a genre of music.
Then it kind of ceased to be--other than what had taken place at that time.
I'm not saying there aren't Southern acts and Southern bands.
But the music has changed so much.
So many people love it around the planet.
I feel like they're probably being slighted by that genre not reappearing and growing new legs.
There's a lot of good, new, Southern music out there.
But there's not a place in radio for it.
You know that radio, for the most part, is in disarray and record companies are in disarray. So people are going to, wherever they have to go, to find the music and it's generally the web that becomes your radio stations online.
As soon as these people solidify, unify, and get their stuff back together again, if they will start spending the money on the tickets, this music will again claim its position.
We're just looking forward to taking on a new generation here!"
  --Rick Flynn 2/6/12 Cincinnati, Ohio